BVI Guide
 is proud to offer dancers the opportunity to have their professional portraits taken with Dyan Witt Photography (
www.dyanwittphotography.com
) on October 25th & 26th.
There are ONLY 24 spots so sign up ASAP!!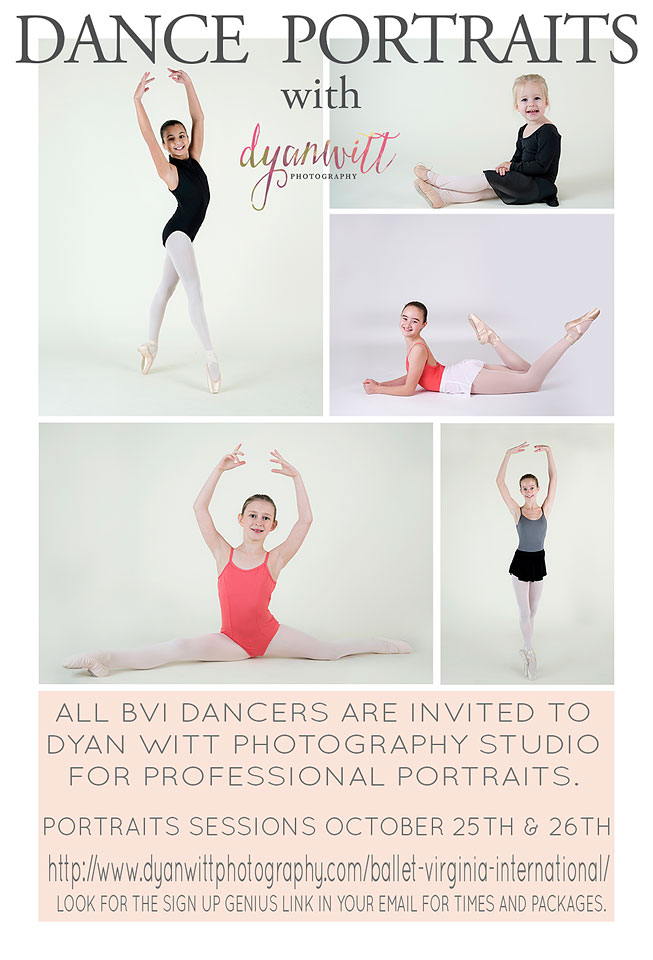 Q- Is this mandatory for all dancers?
A- NO. This is NOT mandatory. This is a great opportunity to have a portrait of your dancer and also provide you with professional portraits if needed when auditioning for schools, scholarships, etc.
Q- Is this a fundraiser?
A – Yes, this is a fundraiser sponsored by the BVI Guild to benefit all dancers at BVI.
Q- Will the portraits be taken at BVI?
A- No. BVI is just so busy every night there is no place for the photographer to set up.
Q- Where and when will the portraits be taken?
A –  All portraits will be taken at Dyan Witt Photography studio located ONE BLOCK from BVI. 324 W. 20th Street, Norfolk 23517. The studio is between Fit36 and Supper Southern Morsels. There is plenty of parking in the back side of this building off 20th Street.
Q- When are the dates and how long is the session?
A- Dates are available on Wednesday, October 25th and Thursday, October 26th 4:00pm – 7:00pm.  There are ONLY 24 spots so sign up ASAP!!
Each dancer will have 15 minutes for portraits. Dyan Witt Photography Studio will be open the
following dates and times. Please see the link below to reserve your spot.  ONE reservation PER dancer. If siblings or friends want their portraits taken together please book the sessions back to back.
Q- Does it cost money to sign up?
A- No, it is free to sign up. Within one week you will receive an email with an online gallery for you to view all your dancers portraits. There are three collections available. See attached pricing guide.
Q- What should my dancer wear?
A –
Dancers may 
wear
 academy leotards. One outfit per dancer. Please arrive 5 minutes before your session to ensure your dancer is ready to go at their reserved time.
Q- Will there be make-up dates/times?
A- No.
Q-  What packages are available?
A- We have created three simple, easy collections. Please see the collections below.
Q-  Who do I contact with additional questions?
A- Please email Dyan Witt Photography with any questions, concerns or comments.