I am pleased to announce that there will be a Beginner's Photography Workshop in Pensacola, Florida.  
Sunday, May 19th 1:00pm-5:00pm in Downtown Pensacola at Long Hollow Studios.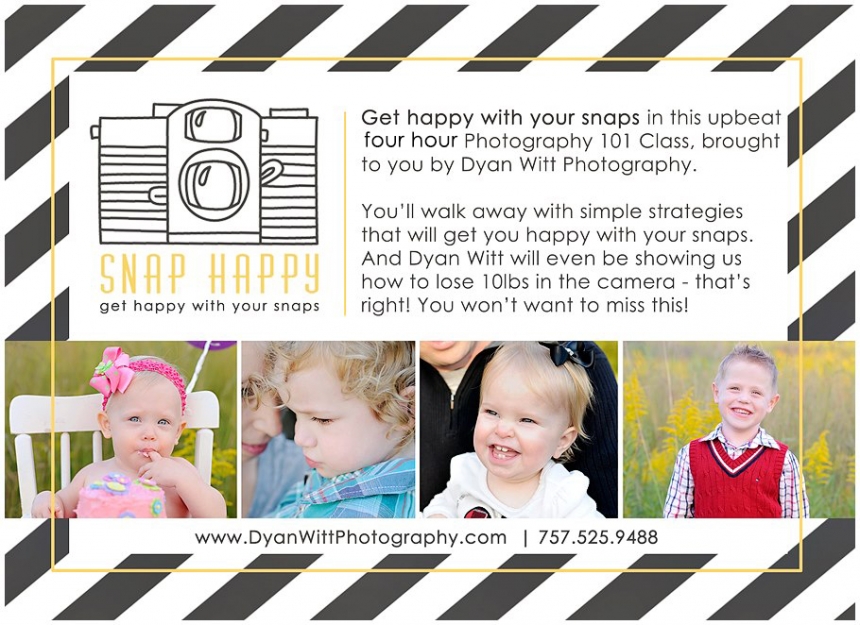 This workshop was designed to teach attendees how to become more confident in their photography. The workshop will be a stress free setting filled with fabulous ladies who want the same thing as you – to fall in love with their snap shots.
My goal is for every attendee to leave the workshop confident and able to properly use their camera. You will learn to understand your camera, equipment and when to change your settings to achieve a variety of effects. It's time to get off AUTO mode girl! You will learn how to produce the blurry background in your images that the professional photographers always seem to have. You will learn to properly use the light to catch the sparkle in your child's eyes. You will learn how to capture the light WITHOUT flash! I will teach you how to properly and safely store and preserve your family memories. And most importantly, I will teach you to pose like a super model so it will appear that you have dropped 10 pounds or more when photographed!
The workshop is a four hour class that will include lunch, beverages, a notebook filled with cheat sheets and swag bags filled with amazing gifts and discounts. I have partnered with vendors for the workshop and am excited to announce there will be amazing prizes and giveaways from MPix, Clickin' Moms, Organic Bloom, My Publisher, Carbonite, Pedaling Designs, Kaliah Designs and much much more!
The workshop will take place Sunday, May 19th 2013 in Pensacola, FL. The class will run from 1pm to 5pm at Long Hollow Studios in downtown Pensacola.
Your investment for this hands-on class, four hour class and all the resources is just $115.
Purchase Your Seat Now!
Click Here to fill out the registration form and purchase your seat.
**** Make sure to tell your girlfriends about the class! There will be a prize for the most social! So if you refer the most friends to sign up, you will receive the BEST PRIZE at the workshop!!